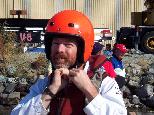 Former Co-Owner - Science Officer
Rob Wheeler of Vashon Island, WA.
(aka "Scooter")

Rob is the crew chief and driver of the Museums Hawaii Kai III. In addition, he was an important construction member of the innovative Turbine U-2 Trendwest in early 2003. The Miss Thriftway hull spent the first three years of the build in Robs shop.