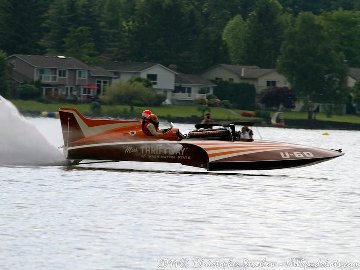 Rob playing "Miss Whaoo"
Photo by Chris Denslow


So over the next few weeks, we'll get some of the Event photos posted from Tri-Cities, Seafair, Coeur d'Alene and Lake Chelan.

Between breaking the quill shaft drive and running three weekends in four weeks, the team is taking a well needed break.

Chief and Peter have been busy over the past year, assembling our second Allison and they are litterally within a few days of work before mounting it on the roll around stand and having Chief start assembling the Volker gearbox. Sometime this winter we'll put it on the test stand and fire her up. THEN...set it in the boat and get it wired up and ready for running at a test session next Spring.

We pulled our current engine (#17) our and ran a compression check. All cyinders are within a 10# range which is just fine for a low compression (6:1) engine. This winter will pull the pan and check the bearings to make sure we haven't pounded them too bad over the past 5 years.

At the end of the 2011 season, Miss Thriftway has been pushed away from the dock 112 times. She has only come back on a tow rope 4 times (once, Compton ran out of gas!). Of the 108 runs, averaging 4 laps per run and 12 minutes per run, there were around 440 laps made with an estimated run time of 24-25 hours.